ROLLOVER CENTER
401(k) Rollover and Retirement Planning Center
Whether you've changed jobs, retired, or your 401(k) plan has been terminated, you now have decisions to make that require careful consideration.
Rollover Center is designed to explain the options available to you for your retirement plan distribution. You will also discover how a direct rollover to a Self-Directed IRA offers you an attractive way to continue building your retirement nest egg on a tax-deferred basis.
We recommend you take a minute to order a 401(k) Rollover Kit. A Rollover Kit includes several helpful retirement planning publications, including "Your Retirement Plan Distribution: How Your Decisions Today Affect Your Future."
_ ____________________________________________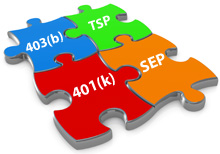 Your Life. Your Money.
Take Control Today!